Here is my entry for Weekend Blog Follower Caravan! This is actually the first blog that I chose to stay home with Blogspot. Having a constant PR3, this hungry blog is longing for GFC, twitter and FB fans. For Week 24, we are tasked to do the following. Three mega follow tasks in one post!!
Please follow my:
FB Fan Page: you can see it in my sidebar or right
Here
.
GFC: at my right side sidebar
Twitter: @mommynuts
This is your chance to get more followers plus a big chance to win $$.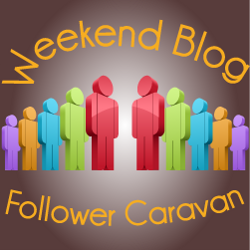 MEGA FOLLOW WEEKEND!
Here are the following tasks:
1. Make a blog post with our WBFC Badge to welcome all our participants. Make sure your blog post has links to this week's sponsors: mumwrites, Hands Full of Life and Postcard Enthusiast.

For this week, three generous bloggers sponsored the WBFC, thus three winners will be drawn!
2. Within your blog post, emphasize the location of your GFC widget, LINK to your Twitter Profile and LINK to your Facebook Fan Page. One entry per blogger only!

3. Submit your blog post to our linky tool below. Not your homepage URL.

4. Visit other participating blogs and leave a comment at our fellow participants' welcome post that you have followed their GFC, Twitter and liked their Facebook Pages by mentioning your usernames and Facebook Profile Name.

5. Please a leave a comment here if you have done so.
A note from the host: Please don't forget to like WBFC Fan Page!
*While doing this entry, (in a rush) a power outage occurs from time to time, (due to super super typhoon Pedring) saving my draft every second. Will submit the link right after. I might log off in a bit.