Halo Halo (halo which means mix) is a common dessert for Filipinos during summer. It is a mixture of shaved ice and evaporated milk with various sweets like banana, macapuno, ube, gulaman, leche flan and ice cream as toppings. Other popular fruits you may add can be melon, jackfruit, coconut sport (macapuno), sugar palm fruit (kaong) tapioca or sago, nata de coco, sweet potato and other fruits like kiwifruit and cherries.
Philippines is a tropical country and so Halo Halo is popular during summer. Summer means fun and this Halo Halo Fiesta from Chowking is my favorite during summer to cool me down.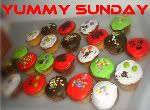 *this is a scheduled post.
off from blogging this week.