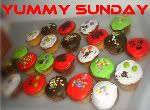 Because what we had last Valentine weren't enough for us, I told my kids I'll cook one for them this weekend.


This is the Greenwich Chicken Carbonara I ordered last week.
And here is my own version of Carbonara.

I add Bologna in my own recipe so I'll call this Chicken Bologna Carbonara.
As you can see, I sprinkled chopped parsley and that's for my food plater only. My plate perfectly match with greenwich color, green and red. I rushed this herb to the nearest supermarket to complete my presentation. Haha. I'm happy with all the effort I exerted. I cooked fabulously, my food tasters said that, not me. :D
They preferred plain Chicken Bologna Carbonara without the herbal leaves. I told them herbal leaves are for my presentation only, haha. So girls, you have to pay me with a big smile, please say cheezy for me.. So here's one.. cheeeezy...
More cheeziness Yummy Sunday at
Perfectly Blended
.