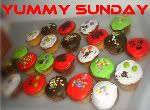 Yay! Yummy Sunday once again. I'll be sharing with you what I have prepared for dinner the other day. One of my favorite dish that my older daughter loves to eat too.
Ampalaya.
Bitter Melon or Bitter Gourd

you can even hear the crunchy sensation while eating it's crispy skin.

I'm posting this early because I'll be out tomorrow for a date. It's Valentine's Day. I'll be attending our 3rd Parents-Teachers Conference for my older daughter tomorrow. I don't know as to where we're going after the meeting, maybe at the mall and will have lunch with my princesses. So there, Happy Valentine's day to you all!
Happy Valentine's Day, Happy Chinese New Year too!