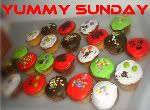 This is my 9th entry for Yummy Sunday. I missed last week celebration here. Anyways, I'm on a strict diet and so what I will share here is something that will totally burn out your calories. Here is a young unriped sour green carabao mango (and that's how I described manggang hilaw!) . Take some, this is super duper sour and just perfect for my ginisang bagoong, (sauteed shrimp paste). Don't forget the sili! You can also try dipping this into soysauce with lots of sugar.
For more Yummy Sunday, please visit
Perfectly Blended
. Have a Happy Yummy Sunday!